Book Travelling Thursdays is a group on Goodreads where every Thursday there is a new theme and to participate you pick one book! From this book you show the cover it has in your country, your favorite cover option and your least favorite cover option! This weeks topic is a lazy-day read. My book this week is This Is What Happy Looks Like by Jennifer E. Smith. This is a super easy read and in my opinion just a cute romance novel that you don't have to think too much about while reading.
Here's the edition I read:
I love th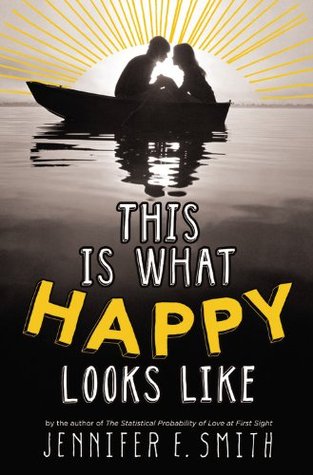 is cover. It shows exactly what the book is: cute. I like how the word happy is set apart. I like the cute sketched rays of sunshine. This cover is adorable.
Here is my least favorite cover:
I still think this cover is cute. However, I always say this but I do not like
real people or realistic drawings on covers. I prefer my brain to imagine exactly how the characters look (probably why I don't like movie actors all the time). This is the German version. I actually love what they did with the girl's hair and the wonky letters, but I do not like the girl herself.
Here is my favorite edition:
Okay, this is the 
Portuguese edition. I do not know if I like it more than the US cover, but I like it for different reasons. I love how all of the colors look happy. I like how their is a little web mail emoticon (in the book the couple met over an e-mail incident!). This cover makes me feel happy!
---
Have any of you read this book, or disagree with my cover choices? I would highly recommend this as a light, fun read!