I was tagged by Kenyan Library (thank you!) and let me tell you I was nervous because this tag includes gifs for each question and believe it or not I have never really used gifs before so this was definitely an experience….
The Rules! =)
Mention the person who tagged you in your post and provide a link to their blog
Fill out the 9 questions in the tag
For each question, insert a gif of how you feel about the book(s) or author.
Tag 5 people and/or everyone to do this tag!
Before you post the tag, do a five-second party dance. (This is a rule?!)
NOW on to the questions!
1. Best Story Premise?
One of my favorite story premises is for The Darkest Powers Trilogy and the sister trilogy, Darkness Rising. I read these about a year ago so I do not remember all the details but a short breakdown is that these books feature supernatural humans that were experimented on by the Edison Group. This group literally turned kids into necromancers, werewolves, sorcerers, half-demons, etc. and their …abilities… show up after they hit puberty! Basically, I loved them. Plus, they do the cool thing where they are separate trilogies with the same theme then in the last book all the characters meet up and I love that. Kelley Armstrong has some serious imagination.
2. Best World Building?

Best World Building has to go to one of favorite series of all time, The Graceling Trilogy by Kristin Cashore. Seriously, if you have not read this series go and get it. Like all great books these ones start with a map. I found that throughout the 3 books the characters ended up in so many places and you always got to know about the scenery and creatures because that is definitely what makes the Dells amazing.
This is what I look like when I see a map at the start of my book…
3. Best Character?
Nanette from Every Exquisite Thing by Matthew Quick! (review soon) I have major bias here as I just read the book, but what can I say? I love the character. She is a bookworm! What is not to love?
4. Best Series?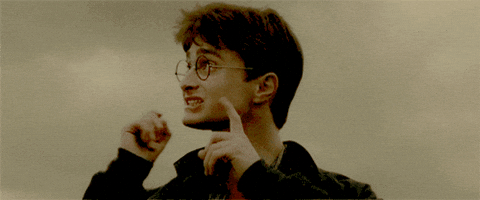 I am going to stick with the tried, true, and Harry Potter. I read tons of series. Series upon series upon series. (I consider 3+ books a series–is that wrong?) However, Harry Potter is one of the few series that has more than 5 books that I have read all the way through. Most series lose my attention after book 4 or 5 but Harry Potter, you kept it!
5. Best Tear Jerker?
I cry at a lot of books. A lot. Thirteen Reasons Why was no exception! I could easily choose
a handful of other books as best tear jerker, but I think Thirteen Reasons Why had an interesting take where I was sad but not mad at the book. Other stories such as Looking For Alaska and All The Bright Places I found myself a little too mad at the authors decisions and I don't feel that with Thirteen Reasons Why, I only felt my tears. 😭
6. Best Author?
Uh. Wow. Leigh Bardugo? I must say I hardly have a favorite (or best) author but Leigh Bardugo has me reading many of her books and I find I love the background she puts into them and the characters.
7. Best Writing Style?
There are many authors I have read that I have found I slip into their stories so easily, and that is the writing style I love. I am giving this to William Goldman. When I read the Princess Bride it felt like I was at home with the characters, also the way he made it seem as though it wasn't the original book had me confused the whole time! I appreciated that. I love how he tricked me and wrote the book as though he was trimming down an old book. I am way to gullible! Anyways it has always stuck with me and I could not appreciate Goldman more than I do now.
8. Best Cover?
Shatter Me, Ignite Me, Unravel Me. I love how it is an eyeball with bursts of colors. It just looks like a work of art to me!
9. Best Ending?

Lunar Chronicles by Marissa Meyer. I felt zero disappointment with the ending of Winter. I didn't feel like there was a cliff hanger and I felt like I got the perfect amount of closure. Plus it includes the classic fairy tale ending and I just found myself smiling. The readers don't get to know which couples stay together or what will happen with Luna and Earth, but the end of the book was serenity and bliss to me!
I had a lot of fun brainstorming for this tag! I am leaving this tag open to anyone and everyone who reads and wants to do this!